Version: v2
Usage and Activity Auditing
Usage Statistics​
Using Canner Enterprise, you can know who took what data when and understand the company's internal cloud usage status and which user and unit used the cloud fee.
Request Count: The administrator can quickly know the number of times each person has requested information in a certain period on this screen.
Inbound Network (Inbound Network): The administrator can know where everyone is in the system and increase the system's total capacity from the database or data center.
Outbound Network: The administrator can know the amount of data pulled out from the system by each person in the system.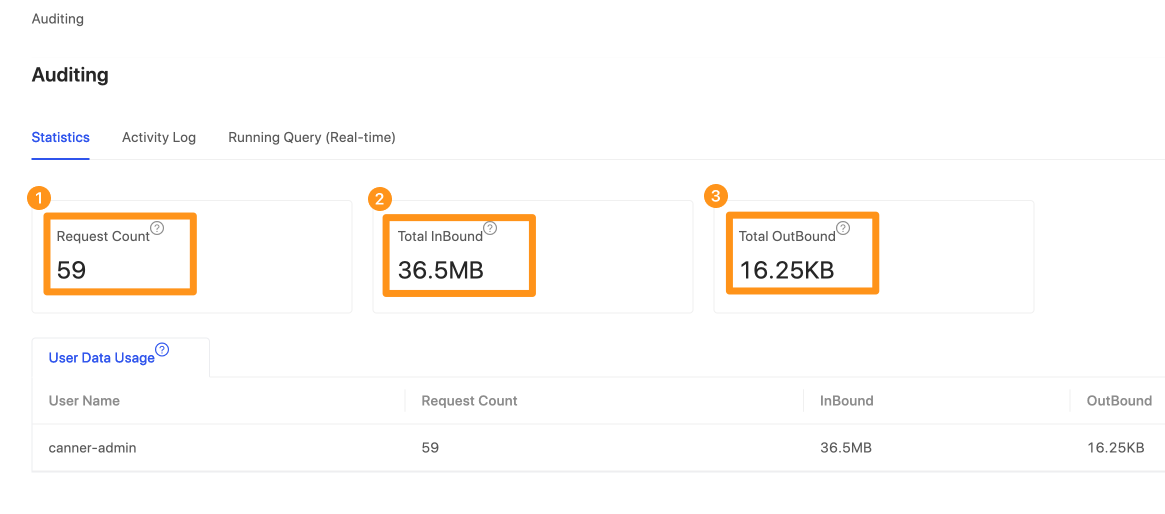 Activity Log​
For the activity record, you can go to the "review page" to find all the operations of all users on the system and operations such as login and logout, as shown in the figure below:
Filter​
You can select specific fields for filtering in the fields of Username, Operation, Workspace name, Resource Type, and Status.
You can track all user activities on Canner Enterprise, including account login and logout, operation details, in which operation, whether the query is successful or not, etc.
Instant View Query​
Instantly view the Realtime Query execution status. In Canner Enterprise, the Data team administrator can also instantly view the Realtime Query status. Let Admin know who is executing which query on the system.